Copyright © by Toucan Valley Publications, Inc. | Source Citation


1760 Mission Drive
P.O. Box 408
Solvang, CA 93463
Established:  September 17, 1804
By:  Father Estévan Tápis, successor to Fathers Serra and Lasuén as President of the missions.
Order:  19th of the 21 missions.
Location:  35 miles north of Santa Barbara, iamong rolling hills near the Santa Ynéz River.
Named: Full name: Santa Inés Virgen y Mártir. For St. Agnes, a 13-year-old Roman girl who was martyred in 304 A.D. Also known as Mission of the Passes.
California Historical Landmark No. 305
DESIGN OF THE MISSION
Church:  139 feet long, 26 feet wide, 29 feet high; made of adobe faced with brick, cemented with lime made from seashells.  Tile  roof; tile floor.
Style:  Classic, designed by Father Francisco Javier de Uría, borrowing some design features from earlier missions (San Gabriel and San Luis Rey).  Carved wooden doors with a small arched window above the entrance.  Beams and rafters made of pine, sycamore and oak brought 45 miles down from the mountains, held together with rawhide strips.  Interior walls painted with murals in native style; some walls painted to look like marble.  Dark brown columns are painted on the exterior, flanking the door.
Walls:  Five to six feet thick with heavy buttresses (supports).
Campanario:  Three bells (one on top, two below) hang in openings cut in a campanario (bell wall).  Bells were cast in 1807, 1817, and 1818.
Mission Compound:  A quadrangle of buildings formed a square 350 feet on each side, around a patio.  Lining the square were living quarters, storerooms, work shops and a guard house. A residence wing, which extends from the church, had 22 arches along a porch.  A walkway on top of the porch (similar to one at Mission San Luís Rey) served as a balcony; a second story was added later.  Special skills of the Chumash Indians here were leather and metal work. They made fancy saddles decorated with silver, and candlesticks and other objects from copper and silver.  Classrooms were included, as Santa Inés was a center for instruction of the Indians.
Mission Grounds:  Fertile lands supported 13,000 head of livestock and excellent crops, yielding enough food to export some to the Santa Barbara presidio.  450 mission workers lived in barracks adjacent to the mission compound.  At a water-powered grist mill both corn and wheat were ground. The water came from the mountains several miles away through underground clay pipes, to be stored in two reservoirs.
EARLY HISTORY
1804   Established with help from other prosperous missions; adobe church with roof of poles and thatch built.
1804-1812     Continuous building projects enlarged the compound.
1812   Earthquake destroyed the church, severely damaged other buildings.  Work was begun on new church.
1817   Present church dedicated on July 4.
1820   Gristmill built by Joseph Chapman, who came to the area as a pirate with Hippolyte de Bouchard. Chapman left pirating and settled at Santa Inés, where his skills in carpentry and engineering were put to good use.
1824   Conflict between soldiers and Chumash Indians at the mission resulted in fires that destroyed some buildings including part of the church.
1825   Repairs made; interior repainted in designs seen today.
1836   Mission secularized, part of buildings rented out; padres kept the half that included the church, which became a parish church.
1843   Governor gave 350,000 acres to Bishop Francisco García Diego to establish a school, the College of Our Lady of Refuge, the first college in California.
1846   College moved to another site; Mission lands sold.
1862   Some of the property was returned to the Catholic Church.
MISSION SANTA INES TODAY
Though never entirely abandoned, regular maintenance at the mission was neglected and by 1870 some buildings had collapsed.  The Donahue family lived in the buildings from 1882-1898 and made some repairs. 
In 1904 Father Alexander Buckler began a 20-year clean-up, patch and repair program. He rebuilt the campanario, which had collapsed in 1911, in a different form.  Major restoration in 1947-48 and 1953-54 returned the campanario to its original style and began the rebuilding of the residence wing.  The balcony walkway, which had been roofed over since 1817, was discovered and restored.
Today the mission is an active church, served by the Capuchin Franciscan fathers.  Much of the interior is original, including the tile floor and the baptismal font made of zinc and copper by native craftsmen.  The statue of St. Agnes over the altar was carved in wood in the early 1800's. 
In 1972 the mission gardens were restored in the shape of a cross, with a fountain in the middle.  Eighteen of the 22 arches along the residence building have been rebuilt. The ruins of arch number 19 stand waiting. The museum in the residence wing has a large collection of garments used by the Franciscan fathers in religious services.  Ruins of the gristmill built in 1820 by Joseph Chapman are nearby.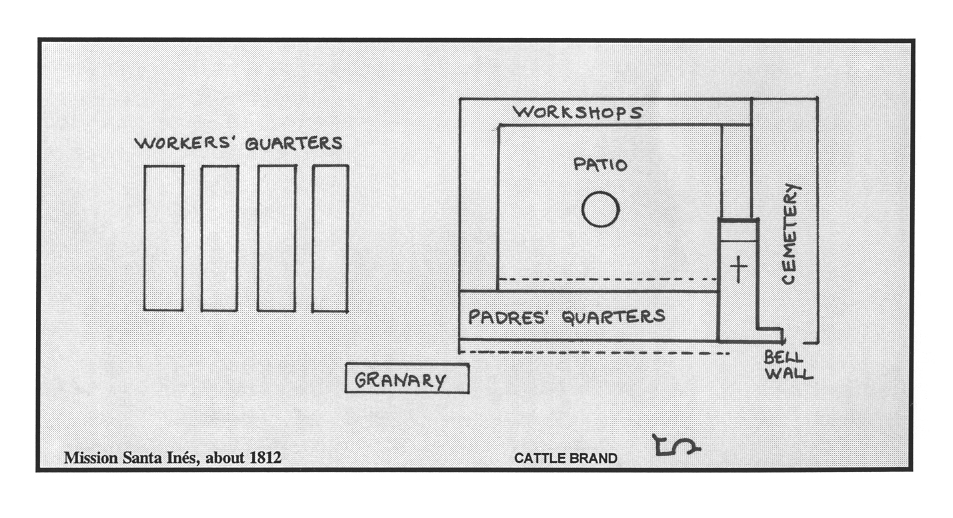 Go to Top