Copyright © by Toucan Valley Publications, Inc. | Source Citation


2201 Laguna Street
Santa Barbara, CA 93105
Established: December 4, 1786
By: Father Fermín Lasuén, Franciscan missionary and successor to Junípero Serra as President of the missions.   
Order: 10th of the 21 missions.
Location: 220 miles north of San Diego, on a hill about a mile from the Pacific Ocean.
Named: In honor of Saint Bárbara, a Roman maiden who was beheaded for her faith. (Santa Barbara Channel was named by the explorer Vizcaíno in 1602.)  Also known as Queen of the Missions.
California Historical Landmark No. 309
DESIGN OF THE MISSION
Church:  162 feet long, 27 feet wide, 42 feet high. Made of blocks of yellow native sandstone, held together with lime made from seashells.  Tile roof.
Style:  Classic, Greco-Roman in design, copied from a book in the mission library, originally written by Vitruvius Polion, a Roman architect, in 27 B.C.  Interior walls painted with designs of garlands and angels.
Walls:  Six feet thick with nine-foot square stone buttresses.
Bell Towers:  Santa Bárbara is the only mission with two matching bell towers, each 87 feet tall and 20 feet square.  One tower was built in 1820; the second was added in 1831.  A narrow passage in one tower allows access to the bells (eight bells in 1833, later increased to 11 bells).
Statues: Statues on the roof represent Faith, Hope and Charity.  Statue of St. Bárbara was added in 1927.
Mission Compound:  The mission church formed one corner of a quadrangle with a patio in the middle.  Facing the inner patio were living quarters for priests, storage areas, the kitchen, offices and dormitories.  About 250 small adobe houses with tile roofs were built in rows near the mission compound for the Chumash Indian families.
Mission Grounds:  Outside the mission walls were larger workshops, a cemetery, grazing for livestock, fields and orchards, a gristmill and a reservoir for water.
Water System:  The mission site was chosen in 1769 by Father Serra because of its closeness to a good water supply.  Two dams and two stone basins were built on Pedragoso Creek in a hilly area.  Four-inch stone aqueducts brought the water down to the mission through the storage reservoirs. Mission Santa Bárbara had the most complete water system of any of the missions, some of it still useable today.  Some water went through a filtration system and was stored for drinking.  Some went into a Moorish fountain in front of the mission, where the water spouted from the mouth of a stone bear and then into the 70-foot pool, used by the mission women for washing clothes.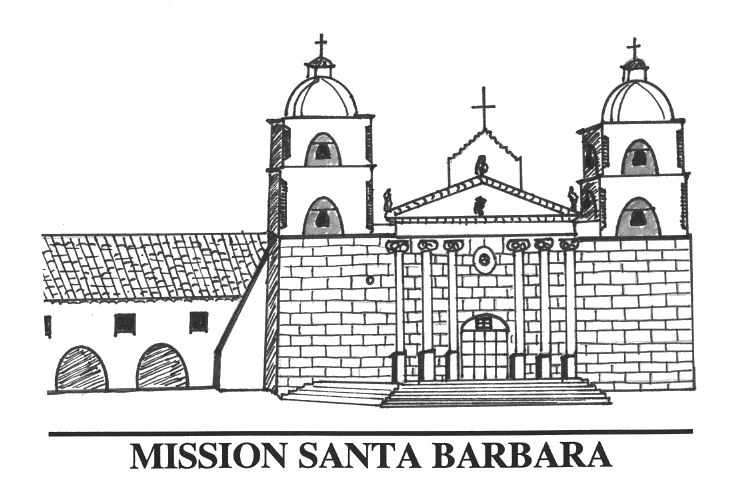 EARLY HISTORY
1769   Father Serra asked permission of Governor de Neve (of Alta California) to build a mission at this location.
1782   Governor approved building a presidio (fort) and a chapel, but not a mission.  Father Serra died in 1784.
1786   Father Lasuén was permitted to found a mission. Dedicated unofficially on December 4, 1786, the feast day of Saint Barbara. Official dedication of site, December 16, 1786, attended by the new governor, Pedro Fages.
1787   First building made of wooden poles with adobe front; a beamed ceiling was covered with a roof of woven reeds, a layer of mud, and straw thatch.
1789   Church replaced by a larger adobe building with a tile roof. Construction work done by the Chumash, who also built quarters for the padres, servant quarters, shops, kitchen, storerooms, and a dormitory.
1794   Church again replaced by a larger adobe building.
1812   An earthquake damaged the church. It was repaired enough for services to be held and plans began for a new church.
1815-20  New church under construction, directed by Father Antonio Ripoll.
1818   Argentine Pirate Hippolyte Bouchard sailed into the harbor intending to plunder the mission, but was frightened away by the soldiers and by 150 mission workers who had been trained by Father Ripoll.
1820   September, dedication of new church with a 3-day fiesta of games, dancing, singing and fireworks.
1829   Mission and presidio attacked by soldiers from Monterey who were rebelling against Governor José María Echeandia. Governor's troops successfully defended the mission.
1835   Mission secularized (mission lands distributed among the community), but the mission buildings remained under the control of the Catholic Church and became a parish church.
MISSION SANTA BARBARA TODAY
Mission Santa Bárbara has stayed under the management of the Franciscan order of the Catholic Church.  It has escaped vandalism because the buildings have been in continuous use.  It was a school for the training of Franciscan priests from 1896 to 1968, and is now used for church services and ceremonies such as weddings.
The Church interior has changed little since 1820.  The tile flooring is original, as is the ceiling decoration, a winged design with tongues of lightning, copied from the book by Vitruvius Polion. Two large paintings in the church are over 200 years old.  The light on the altar is said to have burned continuously since it was lighted by Father Lasuén in 1789.  The church was damaged by earthquake in 1925 but was repaired by 1927.  In 1948 the towers were reinforced with steel and concrete. 
The rooms in the mission that were once living quarters are now a museum of life in the early days of the mission, and house the archives (important papers) of the Franciscans.  Nearby are the beautiful rose gardens.  Each August a Fiesta of Old Spanish Days is held in Santa Barbara.  The Fiesta always begins at the mission, commemorating the founding with music and feasting.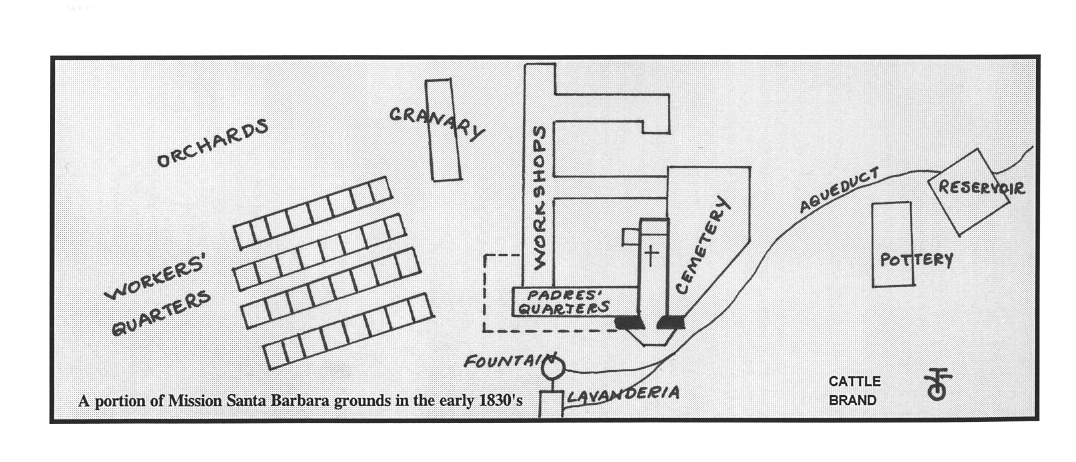 Go to Top