Copyright © by Toucan Valley Publications, Inc. | Source Citation


801 Mission Street
(P.O. Box 69)
San Miguel, CA 93451
Established:  July 25, 1797
By:  Father Fermín Lasuén, Franciscan missionary and successor to Junípero Serra as President of the missions.
Order:  16th of the 21 missions.
Location:  In an inland valley near juncture of Salinas/Nacimiento Rivers, about halfway between Los Angeles and San Francisco.
Named:  For the Archangel Michael, chief of archangels, Captain of the Armies of God. One of three missions named for angels.
California Historical Landmark No. 326
DESIGN OF THE MISSION
Church:  144 feet long, 27 feet wide, 40 feet high at the highest point.  Built of adobe on a stone foundation.  Tile roof; brick floors.
Style:  Plain, almost severe exterior conceals an elaborately painted, glowing interior, the work of Estévan Munras of Spain, who taught Salinan Indians to create murals. Paintings on the walls look like balconies, doors and arches.  Stenciled designs of flowers, leaves and borders alternate with painted pillars, all in pastel colors which have retained their brilliance.  Behind the altar a painting of the "all-seeing eye of God" blazes in gold and white above the statue of St. Michael.  An unusual octagonal pulpit with a crown-shaped cover is highly decorated. Floor bricks alternate in rows of rectangles and squares.  Roof and ceiling beams of pine were carried 40 miles from the Santa Lucia Mountains.  The church is dimly lit by four small windows.
Walls:  Six feet thick.
Campanario:  First bell was hung on a wooden scaffold in front of the church. Much later, in 1939, a campanario (bell wall) was built behind the church. It holds three bells, one weighing 2,000 pounds, recast in 1888 from bells from other missions.
Mission Compound:  A 200-foot-square quadrangle had workshops for craftspeople working with wood, leather, wool, stone and iron.  A unique walkway along the front of the padres' wing has 12 arches of various sizes and shapes, arranged symmetrically around the center arches.  This is the only mission in which the arches along a walkway are not uniform in size and shape.
Mission Grounds:  Lands owned by the mission extended for fifty miles north and south and over the mountains to the ocean. Several prosperous ranchos, including one at San Simeon, provided grazing for 13,000 head of livestock, and acres of wheat fields and vineyards.  Closer to home were soap works, roof-tile works, a gristmill and granaries.  An extensive network of dams and viaducts provided a plentiful water supply from the Salinas River and underground springs.
EARLY HISTORY
1797   Under Father Buenaventura Sitjar, who spoke the native dialect fluently, a wooden church was quickly built (34 feet by 20 feet, adobe with a thatched roof) with living quarters surrounded by a pole fence. The site chosen for the mission was near a Salinan Indian village called Vahca.
1798   Church replaced by a larger one, still with a thatched roof.
1806   Fire destroyed many storage buildings and supplies, plus the roof of the church. Father Juan Martín started workers making adobe bricks for a new church.
1816   New church construction begun, this time with a tile roof.
1818   Church completed in record time because of the supply of adobe bricks ready ahead of time.
1820   Father Martín's friend, Estévan Munras, offered to decorate the church without charging for the work.
1836   Mission secularized, land distributed to native workers; mission continued to operate, but many workers left.
1841   Last Franciscan left San Miguel.
1845   Property sold. The William Reed family lived in the buildings until 1848, when they were killed by bandits looking for gold.
1859   Mission returned to the Catholic Church, but no priest was assigned and buildings were rented to a variety of small businesses.
1878   Catholic Church reactivated the mission; priest again in residence.
MISSION SAN MIGUEL TODAY
Considering that Mission San Miguel for many years was not maintained by any group, it is amazing that it has escaped the work of vandals and the devastation brought to many missions by weather and natural disasters.  It has also been spared from the hands of misguided restorers.  By the 1850's half of the quadrangle had disintegrated, but the church, padres' residence wing, and other outbuildings still stood.
In 1928 the Franciscans returned to use the mission as a parish church and monastery. They did extensive repair and renovation work, including the addition of the campanario to hold the bells, and have maintained the buildings since then.  The church interior is much as it was when Munras finished the painting in the 1820's, the green, blue, pink and brown colors still vibrant.
The wing that once held the padres' living quarters is now a museum, with rooms furnished as they would have been in mission days.  An interesting exhibit shows how sheepskin is used in place of glass in windows.  Other exhibits show tools used in mission crafts and industries, such as a spinning wheel and loom, beehive oven, branding irons, and metal forging tools. 
The large fountain is a modern addition to the mission grounds, added in the 20th century. It was modeled after the fountain at Mission Santa Bárbara.  Near it are the cactus gardens that have been a part of Mission San Miguel since the early days. In the adjacent cemetery are the graves of the Reed family.
Mission San Miguel is known as having the best-preserved church interior of any of the California missions.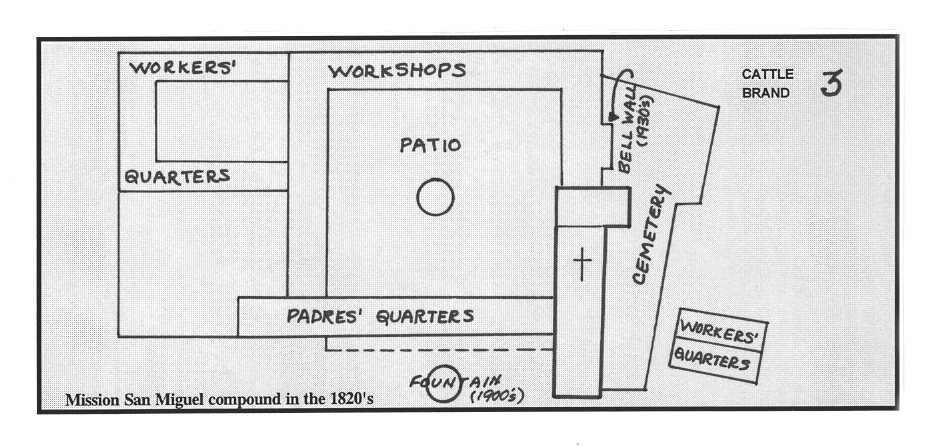 Go to Top