Copyright © by Toucan Valley Publications, Inc. | Source Citation


43300 Mission Boulevard
(P.O. Box 3159)
Fremont, CA 94539
Established:  June 11, 1797
By:  Father Fermín Lasuén, Franciscan missionary and successor to Junípero Serra as President of the missions.
Order:  14th of the 21 missions.
Location:  15 miles NE of San Jose on the east side of San Francisco Bay.
Named:  In honor of St. Joseph, husband and protector of Mary the mother of Jesus.  The town had been named San José de Guadalupe 20 years earlier.  Full name:  Misión del Gloriosísimo Patriarca Señor San José.
California Historical Landmark No. 334
DESIGN OF THE MISSION
Church:  126 feet long, 30 feet wide, 24 feet high; made of adobe and redwood.  Tile roof; tile floor.
Style:  Plain; exterior undecorated except for a dark wood gable.  The side walls are supported by large buttresses.  Semicircular brick steps lead up a slight rise to the front of the church.  Interior was painted by Mexican artist Agustín Dávila, who also painted the wooden base of the copper baptismal font. The paintings on the walls give the perspective of marble columns and balconies.  The altar area has carved wooden furnishings, 23-karat gold leaf trim, and a very old statue of St. Joseph.
Walls:  Vary from four to five feet thick.
Bell Tower:  A low square tower adjoins the church to the left of the entrance.  The four bells are originals.
Mission Compound:  A quadrangle of buildings covered five acres with a padres' residence wing, storerooms, and work-shops.  Father Durán and Father Fortuni taught the Costanoan Indians how to do carpentry, rope-making, leather tanning, weaving, sewing, and shoe making. Unique to this mission was a hot spring from which warm water was channeled to a lavendería (laundry basin) in front of the church.
Mission Grounds:  The livestock at San José started with 600 head of cattle and a flock of sheep given by Mission Santa Clara as a founding gift.  The herds multiplied, and the rich soil produced fine vineyards and fruit and olive orchards.  A flour mill, soap factory, tannery, and adobe houses for the workers were added.  This was the most successful of the northern missions both in terms of numbers of native workers and agricultural production.  In 1832 there were 24,000 head of livestock on 20,000 acres of land.  However, much of the early activity at the mission was of a military nature as soldiers from the San Francisco Presidio used it as a base to make forays against the local tribes.  In 1827 trapper Jedediah Smith stayed at the mission, and Kit Carson was a visitor there in 1830.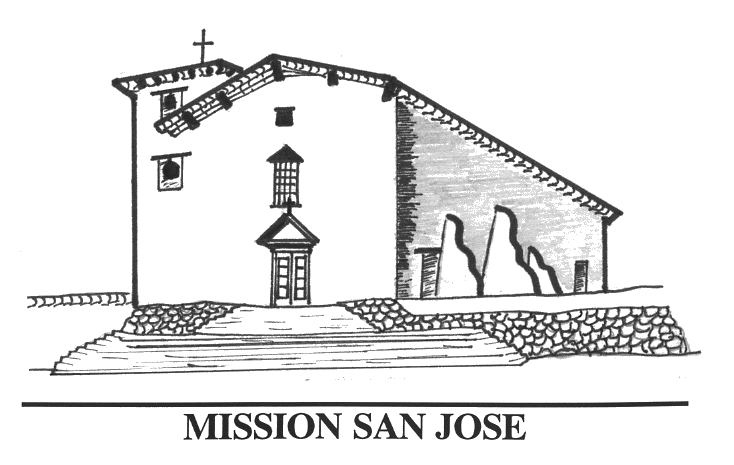 EARLY HISTORY
1795   Mission site selected and a cross was erected.
1797   Mission dedicated; church of wood with thatched roof built.
1805   Permanent church building begun just south of first site.
1806  Father Narciso Durán began his 27 years at the mission, 20 of them working with Father Buenaventura Fortuni.
1809   Church dedicated on April 22.
1819   Dam built across Mission Creek and a flour mill erected.
1830's  Agustín Dávila hired to decorate the interior of the Church.
1833   Father Durán left; Zacatecan Order of Franciscans (Mexican) took over from the Spanish Franciscans.
1836   Mission secularized, control passed to the government.
1846   Lands were sold.  During the gold rush, the mission became a trading post where miners bought supplies.
1858   Mission and 28 acres of land returned to the Catholic Church.
1860's  Mexican tavern and hotel occupied part of the Mission buildings.
1868   Mission church destroyed by an earthquake on October 21. 
1869   Gothic-style church of wood built on foundations of the mission church.  Called St. Joseph's, it served as the parish church until 1969.
MISSION SAN JOSE TODAY
By the early 1900's all that was left of the original mission was a part of the padres' residence wing.  With some repair work in 1916 and again in 1950, a small museum was opened in this building. 
A major effort from 1982-1985 resulted in a replica of the mission church built on the site. Authentic materials and historical tools were used, though the new adobe is reinforced to make it stronger.  Archeologists unearthed some of the original floor tiles. Richard Menn of Carmel was able to recreate Dávila's paintings by following the designs on the baptismal font.  All four of the original mission bells were returned to the church.
In the museum are exhibits showing the skills of the Costanoan (Ohlone) Indians of the area, as well as life in mission days, the work and the recreation.
Mission San Jose was well-known for its orchestra and choir.  Among other talents, Father Durán was a musician, and he taught the mission Indians to make and play musical instruments. People came from other missions to hear the concerts, and the orchestra was in demand for weddings and fiestas.  In 1832 an inventory listed 20 violins, 4 bass viols, 1 contrabass, 1 drum, 1 hand organ, and 26 band uniforms.  In 1819 Father Durán had requested a pipe organ. That request was finally filled in 1989 when a pipe organ (in the style of 19th-century Mexican organs) was installed.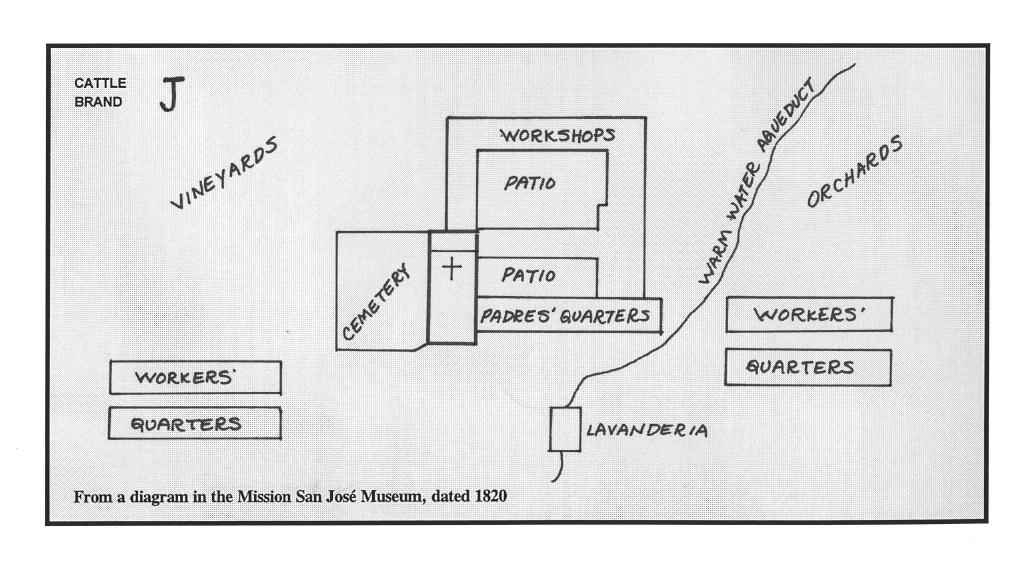 Go to Top