Copyright © by Toucan Valley Publications, Inc. | Source Citation


537 West Mission Drive
San Gabriel, CA 91776
Established:  September 8, 1771
By:  Father Pedro Cambón and Father Angel Somera, near a site previously chosen by Father Serra.
Order:  4th of the 21 missions.
Location: 9 miles east of central Los Angeles, in the San Miguel Valley.
Named:  For the Archangel Gabriel, named in the Bible as the messenger to Mary the mother of Jesus. One of three missions named for angels.  Also known as the Pride of the Missions.
California Historical Landmark No. 158
DESIGN OF THE MISSION
Church:  150 feet long, 27 feet wide, 30 feet high.  Made of stone and concrete up to the windows, of burnt brick above.  Roof was vaulted concrete, replaced in 1804 with a flat roof of brick and mortar,  replaced in 1812 with pitched roof of tiles, finally replaced in 1886 with a roof of shingles.
Style:  Fortress style, with capped buttresses (supports) along outside walls and long narrow windows.  Copied from the Cathedral of Cordova in Spain by Father Antonio Cruzado of Cordova, who was in charge of the construction.  Outside stairway leads to the inside choir loft.
Walls:  Between four and five feet thick; seven feet thick at the buttresses.
Bell Tower:  Original bell tower at the NE corner of the church was destroyed in the 1812 earthquake.  Replaced in 1828 by a campanario (bell wall) at the south end of the church.  Six bells of varying sizes hang in niches cut to fit the bells, in three rows (one bell on top, three in the middle, two at the bottom). Oldest bell made in 1795 in Mexico City; two others are from the original set; two were made in 1828. The largest, made in 1830, weighs 2000 pounds.  The location of the campanario extending from the long side wall of the church, plus the outside stairs, the unique capped buttresses, and a door make this side wall the façade (front) of the church.
Mission Compound:  There were two quadrangles covering several acres, with  buildings for sleeping quarters, storerooms, kitchens, and shops.  The Tongva Indians (later called the Gabrielenos) were skilled in weaving, leatherwork, and making soap (which they supplied to other missions).  A winery, begun in 1771, was at one time the largest in California, with three wine presses and eight brandy stills.  It produced 50,000 gallons of wine a year. 
Mission Grounds:  Mission San Gabriel has been called the Mother of California Agriculture as it produced more wheat than any other mission, as well as barley, corn, beans, peas, lentils, many fruits, and vineyards.  Livestock numbered over 20,000 head.  An aqueduct brought water from a nearby lake and powered a grist mill. Gardens were enclosed by a 12-foot high cactus fence.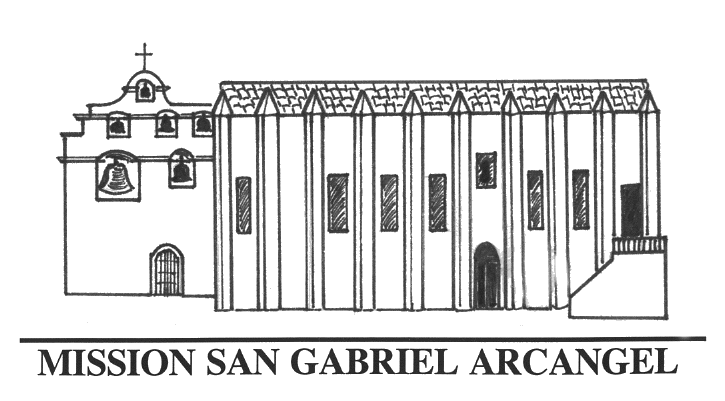 EARLY HISTORY
1771   On a site along San Gabriel River, a temporary chapel of willow poles with tule roof was built, along with living quarters and storerooms; all were surrounded by a stockade of sharpened poles.
1775   Father Lasuén moved the mission five miles north to higher ground to avoid floods, and left Fathers Paterna and Cruzado in charge.  Adobe structures were built.
1776   Father Sánchez replaced Paterna; Sánchez and Cruzado served for 30 years.
1779   Building of the stone church was begun.
1781   A group of padres and settlers rode from Mission San Gabriel to establish the Pueblo of Los Angeles.
1804   Vaulted roof replaced by a flat roof after earthquake damage.
1805   Stone and brick church completed; Fathers Sánchez and Cruzado died; Father José Zalvidea in charge of mission.
1812   Earthquake damaged the church and destroyed the bell tower.  Granary used as a temporary chapel while rebuilding.
1828   Church repaired again; a companario (bell wall) replacing the bell tower was completed.
1830   A ship was built at the mission, the 99-ton schooner Guadalupe, which was launched at San Pedro and sailed south to San Blas loaded with mission goods.
1834   Mission secularized, property used to pay a debt of the Governor.
1843   Mission returned to the Franciscans.
1854   Franciscans replaced by pastors working under a bishop; operated as a parish church.
1865   Roof replaced with shingles.
MISSION SAN GABRIEL TODAY
In 1908 Mission San Gabriel was turned over to the Claretian Missionary Fathers, who have maintained it since then.  They restored much of the quadrangles and patios, as well as continued to provide the services of a parish church.  The church was in a fine state of preservation until the 1987 earthquake, which left cracks in the roof and caused so much structural damage that the church and museum had to be closed to visitors until 1993. The buildings were shored up to prevent them from collapsing.  An earthquake in 1994 damaged the museum wing, but repairs were made quickly.
There have always been lots of visitors at Mission San Gabriel, for at its founding it was located at the crossroads of three main trails, two running north-south from Mexico to upper California, the other running east-west from the eastern U.S. to the Pacific.
Today visitors to Mission San Gabriel will see the canvas with the painting of the Virgin which seemed to calm the anxious natives when the Franciscans first arrived at San Gabriel.  Another unique work of art is the series of 14 paintings of the Stations of the Cross, created by an unknown artist and considered one of the finest examples of early Native Californian church art.  Mission San Gabriel has a fine collection of mission relics.  These include the original hammered copper baptismal font, a gift of King Carlos of Spain in 1771, and six altar statues brought from Spain in 1791.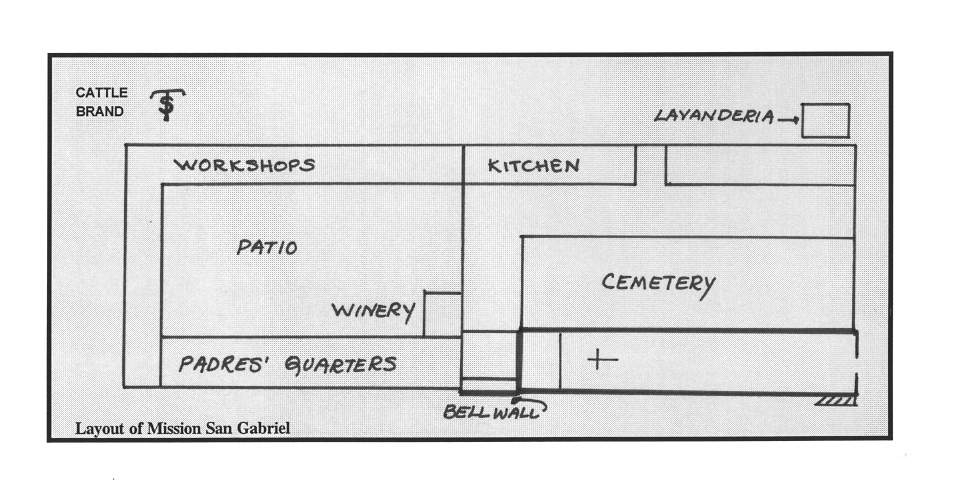 Go to Top