Copyright © by Toucan Valley Publications, Inc. | Source Citation


15151 San Fernando Mission Blvd.
Mission Hills, CA 91345
Established:  September 8, 1797
By:  Father Fermín Lasuén, Franciscan missionary and successor to Junípero Serra.
Order:  17th of the 21 missions.
Location:  In a valley 25 miles NW of Los Angeles, on property owned by Spanish rancher Francisco Reyes, mayor of the new pueblo of Los Angeles.
Named:  For Ferdinand III of Castile, King of Spain (1217-1252), who founded churches and a university.  He was made a saint in 1671.
California Historical Landmark No. 157
DESIGN OF THE MISSION
Church:  166 feet long, 35 feet wide.  Made of adobe.  Tile roof.
Style:  Church is plain and unimpressive, eclipsed by the Mission House or Long Building which is larger and has more striking architectural features.  The church interior is brightly painted in native designs. Behind the altar is a statue of St. Ferdinand, backed by a wall of mirrors.
Walls:  Seven feet thick at the base, tapering to five feet thick at the top.
Bell Tower:  Plain two-story square tower wedged between the church and a wing of the quadrangle, holding three bells.
Mission Compound:  A quadrangle of buildings around a patio measured 295 feet by 315 feet, and included storage, living quarters for the Tongva Indians (later called Fernandeños), a flour mill, and workshops for making wine and brandy, candles and soap, for carpentry, weaving, and saddlery. Most imposing is the Long Building or Mission House, built outside the quadrangle to serve  as the padres' quarters and as an inn for travelers.  This two-story building is 243 feet long, 50 feet wide; the four-foot-thick adobe walls have deep-set arched windows.  It is bordered by a walkway with 21 arches. The Long Building contains 20 rooms, including a large dining room, kitchen, and reception room, all richly decorated with tile floors and ornate iron grillwork (blacksmiths here were known for their excellent work).  Before 1971 a bell hung in a small arch perched atop the roof, but it was toppled by an earthquake.
Mission Grounds:  121,500 acres of land gave space for the mission's biggest industry, cattle raising.  21,000 head of livestock led to a business in hides, tallow, saddle and shoe making.  The nearby pueblo of Los Angeles was a market for the mission's products including wine from the 32,000 grapevines, olives, fruits, nuts, and dates.  In the mid-1800's the mission grounds yielded both oil and gold (in 1842, six years before it was discovered at Coloma in northern California). Though the traces of gold found in an onion field lasted only a few years, treasure seekers dug around the mission for many more years, thinking the padres had buried a fortune.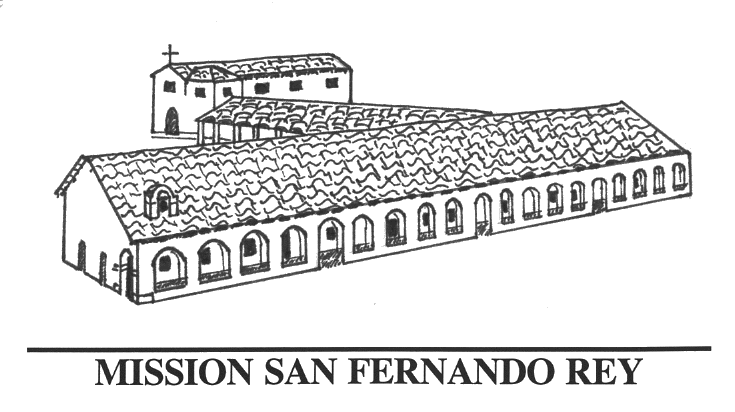 EARLY HISTORY
1797   Mayor Reyes' ranch house served as living quarters while the first small chapel and other buildings were constructed.
1799   First permanent church built.
1800   Church replaced by a larger building.
1806   Third and final church completed.
1808   Dam built on a stream about one mile north of the mission; open ditches brought water to the fields and buildings.
1810-22  Long Building under construction.
1812     Earthquake damaged the church; new beams and brick buttresses (supports)  added as reinforcement.
1834   Mission secularized, taken from the control of the Catholic Church.  Used in next years as military headquarters for various officials, including Governor Pico and Colonel Frémont.
1842   Flecks of gold discovered clinging to an onion pulled from a mission field.
1846   Lands sold.
1861   Mission with 75 acres of land returned to the Catholic Church, but buildings were disintegrating.  Beams, tiles and nails were taken from the church by settlers.  Long Building was leased to a succession of businesses, including a hog farm.
1896   Landmarks Club under Charles F. Loomis began efforts at restoration. A shingle roof was put on the church to prevent further collapse of the walls.
1902   Permanent pastor assigned to the mission, the first since 1852.
MISSION SAN FERNANDO TODAY
August 4, 1916, was a bright day for the future of Mission San Fernando.  On that day, called Candle Day, about 6,000 people paid $1 each for candles, then formed a procession through the arches of the Long Building to declare their support for restoring the mission.  Under the leadership of the Landmarks Club and later the Southwest Museum of Los Angeles, much has been restored.
In 1923 the mission became an active church again under the Oblate Fathers, and the original church building was again used for services. During the 1930's extensive restoration of the church, Long Building, and quadrangle took place.  However, a severe earthquake in 1971 damaged the church beyond repair, and it was replaced in 1974 by a replica of the original building. Another earthquake in 1994 severely damaged the Long Building which had survived so many years as the largest adobe building in California and the largest original structure remaining from the mission days. Almost a year of repair work, in which steel bars were used to reinforce the interior, was needed to stablilize the building. In its big hand-hewn doors can be seen the small holes cut for the cats that were acquired by the padres to cut down on the rat population. Restored rooms of the Long Building show how the mission people and their guests lived.  A library contains many old books.
The bell tower now holds a carillon of bells (operated automatically) installed in 1974, incorporating five of the original mission bells.  A large star-shaped fountain in a plaza across from the Long Building is an original part of the water system that kept the mission abundantly supplied.  One side of the original quadrangle has been restored as a museum and workshop area.  Once again Mission San Fernando welcomes visitors, as it did in its prime.
Go to Top