Copyright © by Toucan Valley Publications, Inc. | Source Citation


2295 Purísima Road
Lompoc, CA 93436
Established:  December 8, 1787
By:  Father Fermín Lasuén, Franciscan missionary and successor to Junípero Serra, on orders left by Serra.
Order:  11th of the 21 missions.
Location:  Halfway between Santa Barbara and San Luis Obispo, near the middle of the chain of missions, in an inland valley.
Named:  For Mary the mother of Jesus. Full name is La Purísima Concepción de María Santísima, or The Immaculate Conception of Mary the Most Pure.
California Historical Landmark No. 340
DESIGN OF THE MISSION
Church:  140 feet long, 30 feet wide. Tile roof.  Tile floors.
Style:  Plain, without any features of distinction.  Church described as built for utility, not beauty.  Used square posts to support the roof, rather than the arches typical of most missions.  Interior of rough-plastered surfaces; exposed beams lashed with rawhide.  Wall paintings in colorful native designs.  Entrance is on the side wall.
Walls:  4½ feet thick.
Campanario:  Reconstructed campanario (bell wall) copied from Mission Santa Inés, since no drawing existed of the original. Three bells (one on top, two below) hang in openings in the wall.  Original bells cast in bronze in Lima, Peru in 1817-1818. Campanario extends out from one end of the church, forming part of the cemetery wall.
Mission Compound:  A series of long buildings arranged in a line, rather than in the traditional quadrangle, perhaps to provide faster exit in case of earthquake.  Buildings included warehouses for storage of hides and tallow; workshops for blacksmiths, carpenters, potters, weavers, and leather workers; residence quarters with kitchens and guest rooms; a small hospital.  The weaving of woolen blankets was a specialty here.  The 300-foot-long residence building was bordered by a walkway with 20 fluted columns.
Mission Grounds:  About 100 Chumash Indians built adobe houses nearby. Surrounding the buildings were large vats for making soap and tallow, a 10-acre vineyard, gardens and a pear orchard.  La Purísima was third of the missions in agricultural production, and had over 20,000 head of livestock.
Water System:  Water was brought from springs in the hills through three miles of open aqueducts, clay pipes, dams and reservoirs.  It was purified by passing through a filter of three feet of sand and charcoal. The water flowed from fountains into lavanderías (laundry pools), and then on to the fields for irrigation.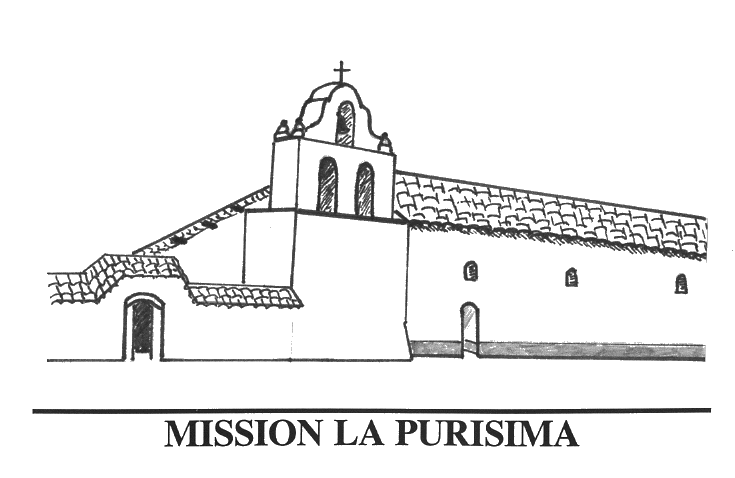 EARLY HISTORY
1787   Mission founded.
1788   Construction of first buildings made of wood poles plastered with mud.
1802   New buildings made of adobe, roofed with tile.
1804   Father Mariano Payéras in charge.
1812   Major earthquake with severe after-shocks, followed by a flood, destroyed all the buildings.  Temporary quarters for mission workers erected nearby.
1815   New site selected four miles NW across the river, in a valley called Canyon of the Watercress.
1815-18  Construction of more permanent buildings; walls of residence building buttressed with stone to provide extra support against earthquakes.
1816-17  Drought caused the death of many livestock.
1818   Fire destroyed many native houses.
1821   Bell wall constructed.
1823   Father Payéras died after 19 years at the mission, (and four years as President of all the missions).
1824   Battle between mission workers and soldiers caused damage to the buildings.
1826   Church damaged by water seepage; small chapel at one end of residence building used as a church.
1834   Mission secularized, land divided and taken from the Catholic Church.
1845   Land and buildings sold.
1874   Buildings returned to the Church, but they were too dilapidated to be used.
MISSION LA PURISIMA CONCEPCION TODAY
The mission buildings continued to disintegrate until the property was in a state of complete ruin.  In 1934 the State of California acquired the site, partly as a donation from the Union Oil Company, and over the next six years a massive restoration project took place under the leadership of the National Park Service. Historians, archeologists, engineers and architects spent a year in research on the project, and then worked with 200 members of the Civilian Conservation Corps for seven years in rebuilding the mission.  Only fragments of the original walls remained, but these fragments were incorporated into the rebuilding.  As much as possible, original-type tools and original methods were used to make the thousands of adobe bricks, roof and floor tiles (110,000 adobe bricks just for the monastery building, plus 32,000 roof tiles and 10,000 floor tiles).
At a dedication ceremony on December 7, 1941, the property became La Purísima Mission State Historic Park.  At that time it was said to be the largest and most complete historic restoration in the Western United States.  Today on 967 acres are 20 rebuilt structures, about half of them furnished as they would have been in 1820.  A five-acre garden area displays plants typical of the mission period, as well as the breeds of animals (longhorn cattle, burros, sheep, goats, geese and turkeys) that were at the mission in its prime.
Since 1973 a group of volunteers (Prelado de los Tesoros, or Keeper of the Treasures) staff the mission on special days as a living history museum, playing character roles and involving visitors in hands-on activities that were part of daily life in 1820.  La Purisima today provides the most complete experience of life in mission days.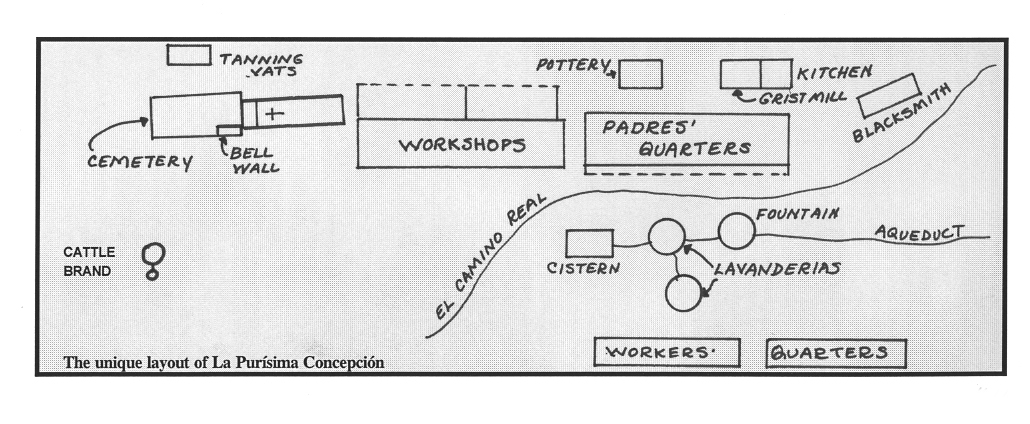 Go to Top